2022 Suicide Prevention Summit | Mental Health Academy
August 19, 2022

-

August 21, 2022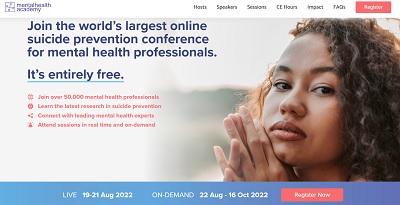 Mental Health Academy's 2022 Suicide Prevention Summit | Mental Health Academy
Mental Health Academy (MHA) are collaborating with the American Counseling Association (ACA), American Association of Suicidology (AAS), National Board for Certified Counselors & Associates (NBCC) and the Canadian Counselling and Psychotherapy Association (CCPA) to bring you the 2022 Suicide Prevention Summit.
The purpose of this Summit is to equip practicing mental health professionals with the most up-to-date, advanced knowledge and treatment options on suicide prevention. To achieve that, we've assembled 13 highly respected experts on suicide into one online specialized Summit.
Over 3 days, August 19-21, you'll have free access to all Summit sessions, live (via webinar). You will then have on-demand streaming access to video recordings (see registration form below for further details).
One of the most powerful resources we have to reduce suicide is our frontline mental health workforce. We believe that by providing mental health practitioners with global best-practice know-how and skills, we can tangibly reduce suicide rates in North America and the world.
We see our role as bringing global best-practice education to practitioners. Your role is taking the time to learn and apply. As we endeavor to save valuable lives, we look forward to seeing you at the online 2022 Suicide Prevention Summit.