Media Toolkit Now Available
Spread the News of the NW PA Veteran Suicide Prevention Program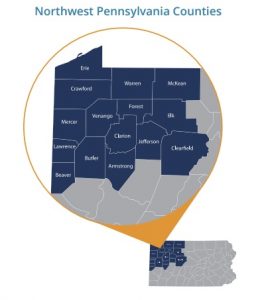 The Northwest Pennsylvania (NW PA) Veteran Suicide Prevention Program operates on a three-pronged approach involving healthcare providers, community organizations, and Veterans and their families. In response to stakeholder feedback, we have developed an online media toolkit that anyone can use to help spread the word about the work we are doing throughout the region. The toolkit contains sample email text, a press release designed for participants to announce their collaboration, and a program overview article that can be forwarded to local newspapers, health and wellness organizations, community groups, and houses of worship.
All materials can be copied/pasted and modified to fit an individual's or organization's specific needs. Please reach out to us if you have any questions!
Read time: 7 minutes
Email Template
Sharing the news of this Program with colleagues, family, and friends helps us to expand our network and community impact. This customizable email template can be used when reaching out to those who have an interest in Veterans and military affairs, or programs promoting resiliency, reducing stigma, and preventing suicide.
Newsletter Announcement
Want to include a announcement about the Program in your organization's email or printed newsletter? This announcement includes an overview description, links, and images that can be easily added into your newsletter's publishing software.
Short Article
The short article can be edited to share with local online and print newspapers, community organizations and clubs, private businesses specializing in health, wellness, or Veterans/military culture, and houses of worship.
Press Release
Our press release is designed to announce an organization's partnership with the Program. The template can be customized to feature quotes and information specific to the partner's role.
Help Us Reduce Veteran Suicide Deaths. Get Involved.
PERU has partnered with the U.S. Department of Veterans Affairs since 2015 and continues to strive to ensure the health, safety, and well-being of the Veteran community. To learn more about the work we are undertaking alongside our stakeholders, visit our website at theresilientveteran.org. By working together, we can reduce suicide deaths of those who have served in the armed forces.