Sending a Caring Message Can Brighten a Veteran's Day, Save a Life
Take Part in the Caring Messages Campaign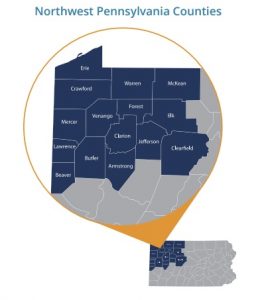 The Northwest Pennsylvania (NW PA) Veteran Suicide Prevention Program operates on a three-pronged approach involving healthcare providers, community organizations, and Veterans and their families. The PA Department of Military and Veterans Affairs (DMVA) is an active partner and responsible for ensuring that the Program integrates current Veteran suicide prevention initiatives throughout the state of Pennsylvania. The Caring Messages campaign can be shared with all interested individuals and organizations throughout the state (and beyond). The winter months can be challenging, and sending an email, message, or handwritten note can be uplifting and provide hope and connection.
Please reach out to us if you have any questions or would like to speak with someone about publicizing this initiative in your community!
Read time: 4 minutes
Caring Messages is an Initiative of the Governor's Challenge to Prevent Veteran Suicide


The Governor's Challenge to Prevent Suicide Among Service Members, Veterans and Their Families is launching a campaign to encourage people to send a Caring Message to veterans they know, possibly saving a life. The Governor's Challenge is led by the Pennsylvania Department of Military and Veterans Affairs (DMVA).
"It is important for everyone who knows a veteran to let that veteran know how much you care about them," said Rick Hamp, the Pennsylvania Governor's Challenge team lead from DMVA. "A Caring Message is simple to send and can take the form of a letter, text, email, phone call, or any communication. Simply reminding a veteran that they matter, especially one who might be in crisis, can be lifesaving."
As part of the campaign, the Governor's Challenge team is sending letters and emails specifically to veteran advocates and health care providers throughout Pennsylvania, encouraging them to reach out to veterans they serve. Sample text has been created and is publicly available for individuals and organizations to download and use on social media.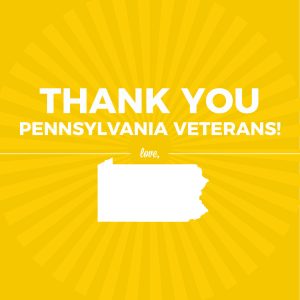 "Anyone who knows a veteran can send a Caring Message, but it is especially important for veteran advocates and health care providers who regularly see veterans to take the time to reach out with any form of positive communication," said Hamp. "A Caring Message could be as simple as: 'It was great to see you today. I am looking forward to your next visit.'"
Hamp said the holidays can be exceptionally depressing for some veterans, so this is the perfect time to be proactive and make that connection. He added that current service members and their families should be thought about, too.
Military veterans are 1.5 times more likely to die by suicide than Americans who never served in the military. For female veterans, the risk factor is 2.2 times more likely.
Pennsylvania serves nearly 800,000 veterans, the fourth-largest veteran population in the country. It is one of 35 states taking part in the Governor's Challenge. Participants implement state-wide suicide prevention best practices and learn from stakeholders nationwide.
Veterans who are in crisis are urged to call the toll-free Veterans Crisis Line at 988 and press 1. This service is available 24 hours a day, seven days a week, and is available to everyone. All calls are confidential.
DMVA MEDIA CONTACT: Joseph Butera, jobutera@pa.gov
All of the following images can be downloaded and saved for individual or organizational use. Click on the image to show its full size and then save to your computer.
Help Us Reduce Veteran Suicide Deaths. Get Involved.
PERU has partnered with the U.S. Department of Veterans Affairs since 2015 and continues to strive to ensure the health, safety, and well-being of the Veteran community. To learn more about the work we are undertaking alongside our stakeholders, visit our website at theresilientveteran.org. By working together, we can reduce suicide deaths of those who have served in the armed forces.