Cleanup in Erie, PA
June 24 @ 9:00 am

-

12:00 pm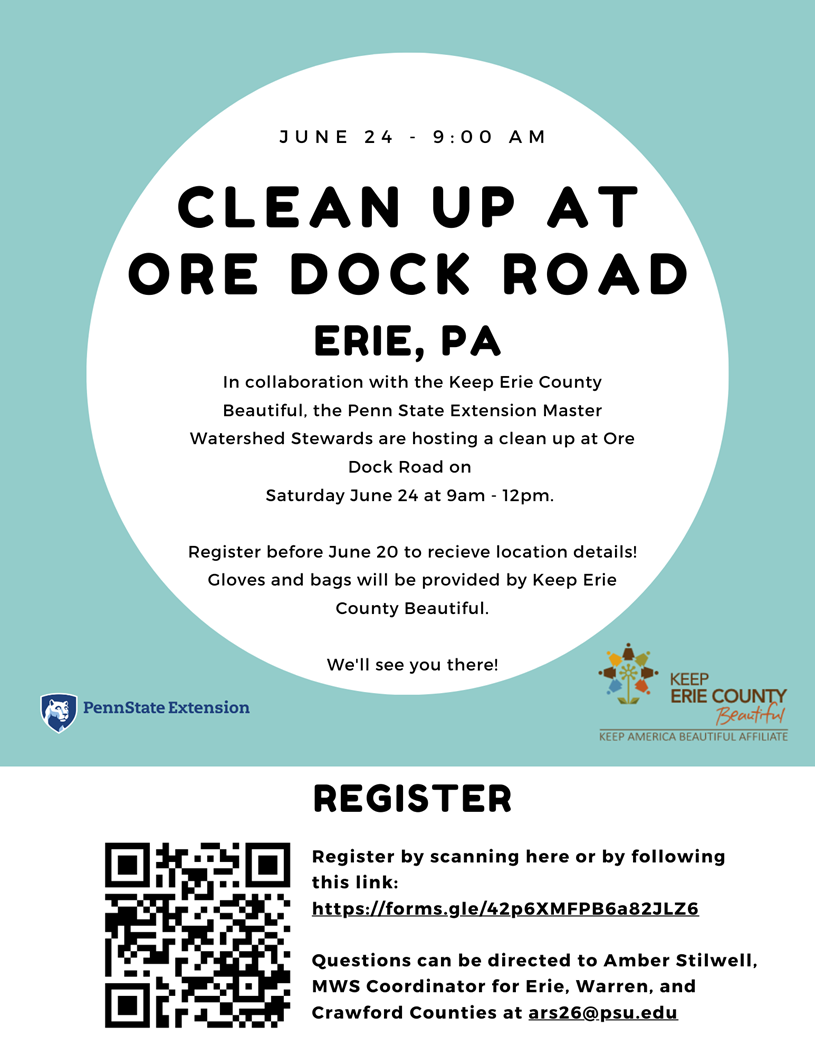 CLEANUP IN ERIE PENNSYLVANIA
Erie, PA
June 24, 2023
9:00am-12:00pm Eastern
Register today for the collaborative cleanup on Ore Dock Road in Erie, PA on June 24, 2023, beginning at 9:00 AM. This cleanup will be hosted collaboratively by the Penn State Extension Master Watershed Stewards and Keep Erie County Beautiful.
Plastic and other forms of debris pollute Lake Erie and other waterbodies across Pennsylvania. There is a strong need for volunteers to assist in the removal of that debris in conjunction with preventative methods and raising awareness. This cleanup will focus on Ore Dock Road in Erie, PA. It is critical to sustain and enhance our water quality and conserve this most valuable resource through litter and plastic removal.
The Master Watershed Steward program is a Penn State Extension program built to train volunteers in water conservation efforts. Stewards can assist with various efforts, including litter cleanups, tree plantings, education within the community, active participation in a watershed association, and much more. Questions about the Erie, Warren, and Crawford Master Watershed Steward Program can be directed to Amber Stilwell, the program coordinator, at ars26@psu.edu. More information can be found at https://extension.psu.edu/programs/watershed-stewards, including a staff directory for other programs across Pennsylvania.
We encourage anyone interested in participating, whether they are a concerned citizen or Master Watershed Steward to register for this cleanup. Register today by filling out this online form to receive more details about the location prior to the event. Questions and concerns can be directed to Amber Stilwell at ars26@psu.edu.