Facilitating the Integration of Firearm Injury Prevention into Healthcare
April 25, 2022 @ 12:00 pm

-

5:00 pm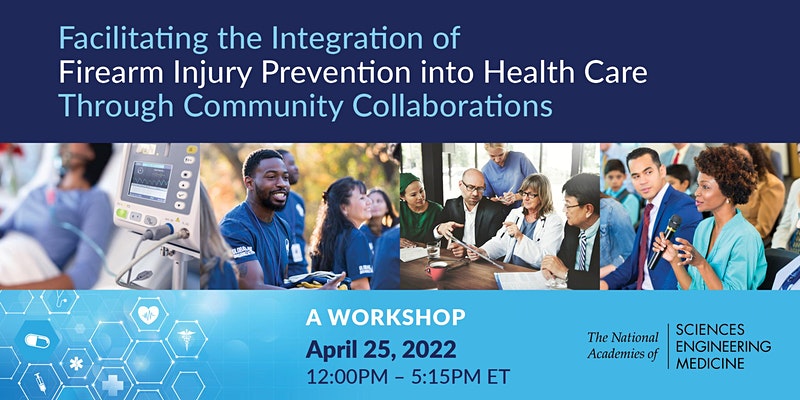 The National Academies of Sciences, Engineering and Medicine will host a free, virtual workshop on April 25, 2022, 12:00 PM-5:15 PM ET exploring how firearm injury and mortality prevention can be integrated into routine care in health systems. The workshop will include discussion about the current evidence on strategies for prevention. It will also explore what we have learned about facilitators and barriers to implementation of strategies, and how health systems might work to overcome those barriers to improve the health of patients and communities.
Topics covered will be:
Framing of the issue:  Firearm Injuries and Healthcare's Role in Depolarizing A Public Health Crisis
Healthcare Strategies to Reduce Firearm Injury and Mortality
Barriers and Facilitators to Implementing Hospital-Based Firearm Injury Prevention Strategies in Urban and Rural Communities
Collaborating with Community to Improve Healthcare System Implementation Success and Destigmatize Gun Violence Prevention
Defining a Firearms Violence Prevention Roadmap for Hospitals and Health Systems
This free workshop is sponsored by Northwell Health. To view the draft agenda and more information about this event, please visit their website.
Register for the workshop on Eventbrite.