Google VetNet Career Week
June 21, 2022

-

June 23, 2022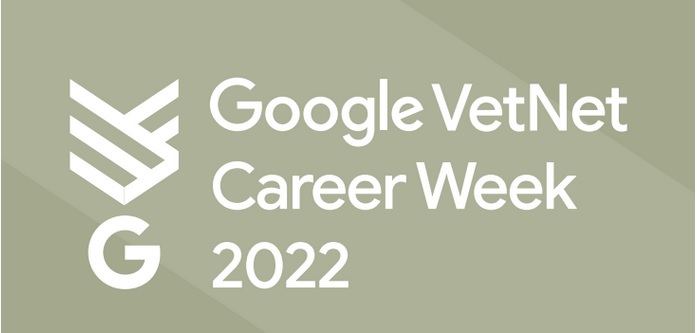 The Google Veterans Network (VetNet) is proud to present the 2nd annual Google VetNet Career Week, a virtual three-day event offering veterans, transitioning service members, and military spouses/partners the tools, support, and advice needed to establish and advance your career. This year, VetNet has also partnered with
Welcome.US
to extend Career Week to those seeking refuge here.
The three day program will include panels providing an overview of specific job functions and industries found in corporate society today, exclusive fireside chats between executive leaders from Google and partner companies, free skill building sessions, and the opportunity for a 1:1 personal resume review with a Googler.
Whether you're just beginning your journey or have been in the corporate workforce for years, Google's VetNet Career Week aims to provide useful networking, learning lessons, and tactical career advice for all.
Visit the
VetNet website
to see the full schedule of events for each day and register to attend.
Tuesday, June 21: Find the Right Job for You
Are you curious about what role is right for you given your interests, experience, and skills? Watch these panels to receive insight into the day-to-day responsibilities of different functions directly from those who are in the roles. Feel free to hop around to different sessions to hear the various experiences of the panelists.
Wednesday, June 22: Find the Right Industry For You
Are you wondering about which industry is best for you or are you thinking of making a switch? Listen to panelists from different companies speak about their experience in a specific industry, how they broke in, and what it's like to work in the space. There are three Industry Deep Dive Panels occurring in each hour – attend the one that appeals to you, or feel free to hop around to different tracks to hear the various journeys of the panelists.
Thursday, June 23: Applying What You Learned 
Free Training Sessions Available
Apply what you have learned throughout the week with learning sessions below, focused on Transitioning Programs, Networking + Interviewing, and Job Specific Skills. Please select one of the below session per time block to attend & click the sign up link.  Please note that we have a maximum of 500 attendees in each session so if you sign up, we expect you to attend.