How Sleep Impacts Suicide Risk
September 27 @ 5:30 pm

-

8:00 pm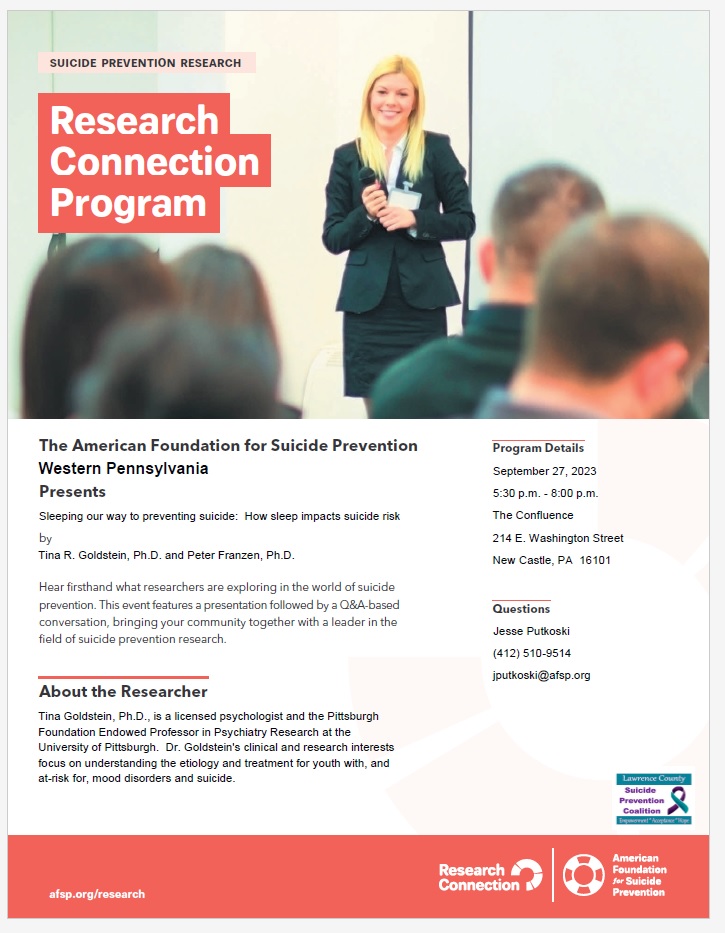 Sleeping our way to preventing suicide: How sleep impacts suicide risk
Tina R. Goldstein, Ph.D. and Peter Franzen, Ph.D.
September 27, 2023
5:30 p.m. – 8:00 p.m.
The Confluence
214 E. Washington Street
New Castle, PA 16101
Presented by the American Foundation for Suicide Prevention Western Pennsylvania, hear firsthand what researchers are exploring in the world of suicide prevention. This event features a presentation followed by a Q&A-based conversation, bringing your community together with a leader in the field of suicide prevention research.
About the Researcher
Tina Goldstein, Ph.D., is a licensed psychologist and the Pittsburgh Foundation Endowed Professor in Psychiatry Research at the University of Pittsburgh. Dr. Goldstein's clinical and research interests focus on understanding the etiology and treatment for youth with, and at-risk for, mood disorders and suicide.
No registration necessary. Contact Jesse Putkoski at (412) 510-9514 or jputkoski@afsp.org with questions.