INTEGRATING TRAUMA INFORMED CARE INTO SUICIDE RESPONSE (ITIC)
January 17, 2024 @ 11:00 am

-

12:00 pm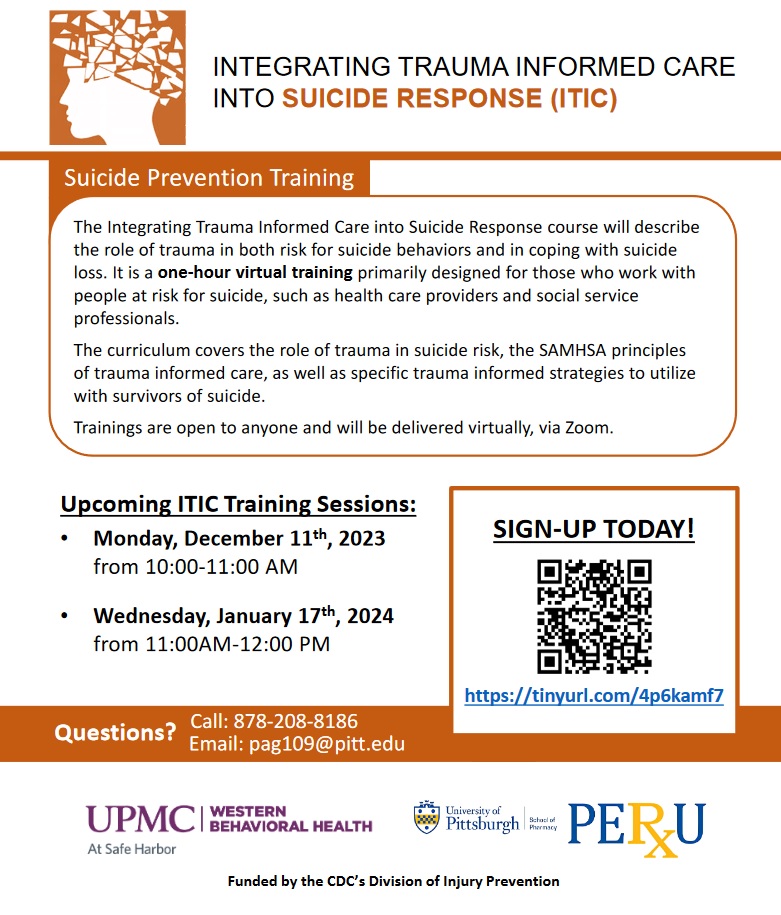 INTEGRATING TRAUMA INFORMED CARE INTO SUICIDE RESPONSE (ITIC)
Suicide Prevention Training
The Integrating Trauma Informed Care into Suicide Response course will describe the role of trauma in both risk for suicide behaviors and in coping with suicide loss. It is a one-hour virtual training primarily designed for those who work with people at risk for suicide, such as health care providers and social service professionals.
The curriculum covers the role of trauma in suicide risk, the SAMHSA principles of trauma informed care, as well as specific trauma informed strategies to utilize with survivors of suicide.
Trainings are open to anyone and will be delivered virtually, via Zoom.
Funded by the CDC's Division of Injury Prevention
Call: 878-208-8186
Email: pag109@pitt.edu
SIGN-UP TODAY!
https://tinyurl.com/4p6kamf7
Upcoming ITIC Training Sessions:
• Monday, December 11th , 2023 from 10:00-11:00 AM
• Wednesday, January 17th , 2024 from 11:00AM-12:00 PM