National PTSD Awareness Day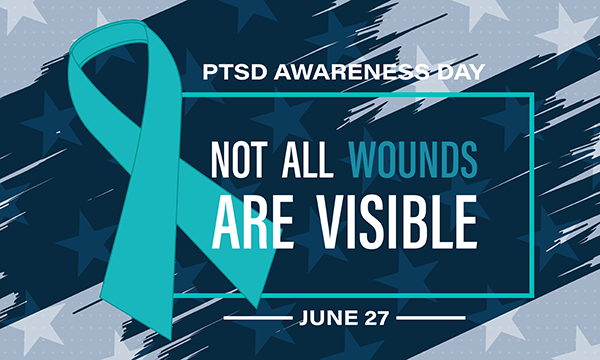 Help Raise PTSD Awareness
There are currently about 8 million people in the United States with PTSD.
Even though PTSD treatments work, most people who have PTSD don't get the help they need. June is PTSD Awareness Month and June 27 is PTSD Awareness Day. Help us spread the word that effective PTSD treatments are available. Everyone with PTSD—whether they are Veterans or civilian survivors of sexual assault, serious accidents, natural disasters, or other traumatic events—needs to know that treatments really do work and can lead to a better quality of life.
Learn more by visiting the US Department of Veterans Affairs PTSD website or the American Red Cross.
During PTSD Awareness Month, and throughout the entire year, help raise awareness about the many different PTSD treatment options.
Share on social media.
Email, Text, Mail a Letter.
Send an email to friends and family letting them know about PTSD Awareness Month and encourage them to visit our website for tips and resources.
Text a Veteran in your life, just to check in.
Share our printed materials with someone. You can order brochures, posters, postcards, and other print materials for free online — see what's available here.
An important first step to spreading awareness about PTSD is to make the pledge. Show your support during PTSD awareness month and join us in spreading the word about PTSD and effective treatment.