QPR for Clearfield and Jefferson Counties
December 13 @ 10:00 am

-

12:00 pm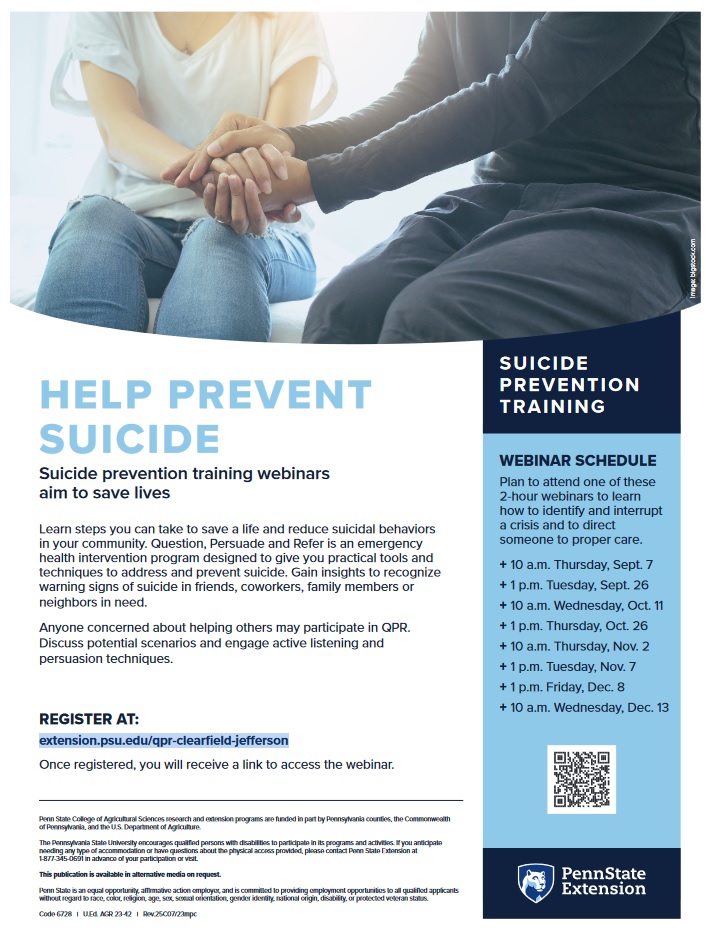 QPR for Clearfield and Jefferson Counties
HELP PREVENT SUICIDE
Suicide prevention training webinars aim to save lives. Learn steps you can take to save a life and reduce suicidal behaviors in your community. Question, Persuade and Refer is an emergency health intervention program designed to give you practical tools and techniques to address and prevent suicide. Gain insights to recognize warning signs of suicide in friends, coworkers, family members or neighbors in need. Anyone concerned about helping others may participate in QPR. Discuss potential scenarios and engage active listening and persuasion techniques.
WEBINAR SCHEDULE
Plan to attend this 2-hour webinar to learn how to identify and interrupt a crisis and to direct someone to proper care.
+ 10 a.m. Wednesday, Dec. 13
REGISTER AT:
extension.psu.edu/qpr-clearfield-jefferson
Once registered, you will receive a link to access the webinar.
Penn State College of Agricultural Sciences research and extension programs are funded in part by Pennsylvania counties, the Commonwealth of Pennsylvania, and the U.S. Department of Agriculture. The Pennsylvania State University encourages qualified persons with disabilities to participate in its programs and activities. If you anticipate needing any type of accommodation or have questions about the physical access provided, please contact Penn State Extension at 1-877-345-0691 in advance of your participation or visit.
Penn State is an equal opportunity, affirmative action employer, and is committed to providing employment opportunities to all qualified applicants without regard to race, color, religion, age, sex, sexual orientation, gender identity, national origin, disability, or protected veteran status.
Code 6728 | U.Ed. AGR 23-42 | Rev.25C07/23mpc