Women Veterans Conference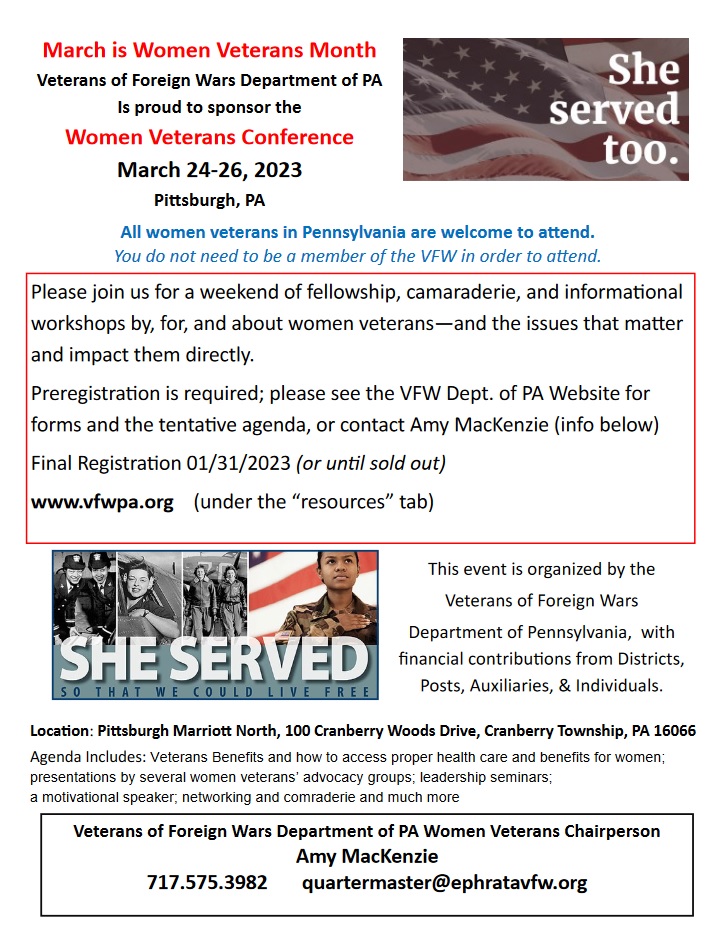 March is Women Veterans Month
Veterans of Foreign Wars Department of PA is proud to sponsor the Women Veterans Conference
March 24–26, 2023
Pittsburgh, PA
Pittsburgh Marriott North, 100 Cranberry Woods Drive, Cranberry Township, PA 16066
Agenda Includes: Veterans Benefits and how to access proper health care and benefits for women; presentations by several women veterans' advocacy groups; leadership seminars; a motivational speaker; networking and camaraderie and much more All women veterans in Pennsylvania are welcome to attend. You do not need to be a member of the VFW in order to attend.
Please join us for a weekend of fellowship, camaraderie, and informational workshops by, for, and about women veterans—and the issues that matter and impact them directly. Preregistration is required; please see the VFW Dept. of PA Website for forms and the tentative agenda, or contact Amy MacKenzie (info below).
Final Registration 01/31/2023 (or until sold out)
www.vfwpa.org (under the "resources" tab)
This event is organized by the Veterans of Foreign Wars Department of Pennsylvania, with financial contributions from Districts, Posts, Auxiliaries, & Individuals.
Veterans of Foreign Wars Department of PA Women Veterans Chairperson
Amy MacKenzie
717.575.3982 quartermaster@ephratavfw.org