FOR IMMEDIATE RELEASE
Contact Patti Tanner, University of Pittsburgh
Phone: 878-208-8186
Email: patti.tanner@pitt.edu
A pdf of the flyer is available to download or print.
Celebrity Chef Luncheon Promotes Veteran Suicide Prevention
Breaking Bread with Heroes
Fort LeBoeuf American Legion Post 285
120 West 4th Street
Waterford, PA, ZIP
Saturday, September 17, 2022
12:00 PM – 2:00 PM EDT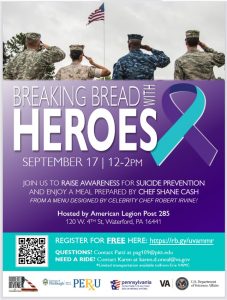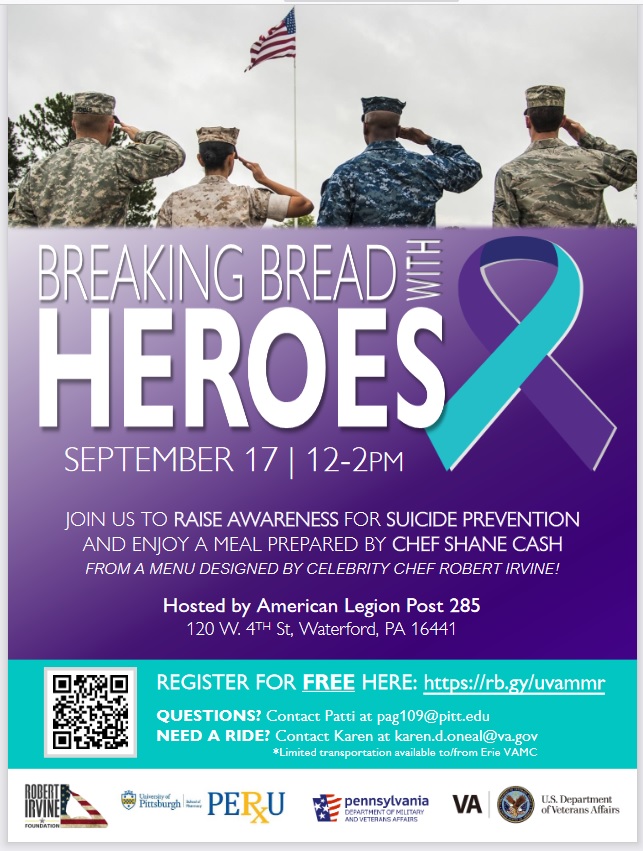 (Waterford, PA) – Register today to attend "Breaking Bread with Heroes," a luncheon at the Fort LeBoeuf American Legion Post 285 on 120 West 4th Street in Waterford, PA, on Saturday, September 17, 2022, at 12:00 PM. The event aims to raise awareness for Veteran suicide prevention and will feature a menu designed by celebrity chef Robert Irvine and prepared by U.S. Marine Veteran and chef Shane Cash. Army Veteran and keynote speaker Stephanie Mitchell will discuss her experience as a combat medic in Iraq and her current work with the Erie Veterans Center providing mental and behavioral health services to Veterans. The event is hosted collaboratively by The University of Pittsburgh's (Pitt) Northwest Pennsylvania Veteran Suicide Prevention Program, The Robert Irvine Foundation, The Pennsylvania Department of Military and Veterans Affairs, and the Erie VA Medical Center.
Suicide is a public health concern and a leading cause of death in the United States. More investment in suicide prevention, education, and research will prevent the untimely deaths of thousands of Americans each year. In Pennsylvania, suicide ranks among the top 10 causes of death for ages 64 and younger. Veterans may be more susceptible to suicide due to the physical and mental stresses that are common among former and active military.
Throughout the 15-county region of Northwest Pennsylvania, Pitt's Veteran Suicide Prevention Program collaborates with healthcare partners, community organizations, Veterans, and their families to eliminate suicide deaths. By focusing on resiliency and protective factors, the program aims to improve access to treatment and support services, increase awareness of suicide risk, and provide targeted suicide prevention activities and training opportunities. The program's public-facing materials, resources, and events can be found at TheResilientVeteran.org
Veterans and their families are invited to attend the luncheon, and volunteers with culinary skills are needed to assist with meal preparation. Register online to reserve your seat. You can also email Patti Tanner at patti.tanner@pitt.edu to register or receive additional information.
###
Keynote Speaker: Stephanie Mitchell
Stephanie Mitchell joined the Army at the age of 17, right out of Uniontown High School. She spent 13 years in the Military as a Combat Medic and did two tours in Iraq. Stephanie now works at the Erie Vet Center as a readjustment counselor, providing psychotherapy services to Veterans with severe mental illness (SMI), substance use disorders (SUD) and combat related post-traumatic stress disorder (PTSD).
About the Erie VA Medical Center
The Erie VA Medical Center is dedicated to improving the lives of Veterans by providing world-class care. We provide health care services to over 22,000 Veterans across nine counties in Pennsylvania, New York, and Ohio. Services are provided in 6 locations: the Erie VAMC (hospital and community living center) and five county VA clinics.
About the Robert Irvine Foundation
The Robert Irvine Foundation's primary focus is giving back and supporting our service members, veterans, first responders, their families, and those in need through resiliency, health, and wellness programs, in addition to the financial support of top-rated military and first responder organizations.
About the Pennsylvania's Department of Military and Veterans Affairs
Pennsylvania's Department of Military and Veterans Affairs has a dual mission: to meet the needs of the commonwealth's nearly 800,000 veterans – the 4th largest veteran population in the nation – and to oversee and support the nearly 18,000 members of the Pennsylvania National Guard – the 2nd largest Guard in the nation. The agency also administers six long-term care Veterans Homes, networks with veteran advocates throughout all 67 counties, provides state programs and services to eligible veterans and their families, and advises veterans on the local and federal benefits available to them thanks to their service to our nation.
About the University of Pittsburgh School of Pharmacy
The University of Pittsburgh School of Pharmacy has been developing leaders who have been driving the future of pharmacy for over 135 years. We investigate, discover, and create ways to improve patient health and, through partnerships, change practice and improve efficiency of care. Pitt Pharmacy ranks in the top 10 in NIH-funded research and in the top 15 in U.S. News and World Report among schools of pharmacy. The School of Pharmacy leads the way in education, personalizing education and getting students to expert faster. Chartered in 1878, the School of Pharmacy is among the oldest pharmacy schools in the country.