For Immediate Release
7/14/2022
Contact Amber Stilwell, Penn State Extension, ars26@psu.edu
Contact Lee Wagner, University of Pittsburgh, LEW146@pitt.edu
COLLABORATIVE CLEANUP IN NORTHWEST PENNSYLVANIA
Ore Dock Road, Erie, PA
August 13, 2022
8:30am-12:30pm Eastern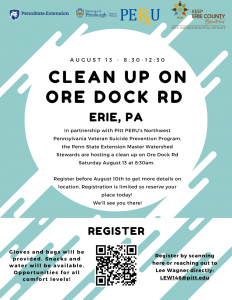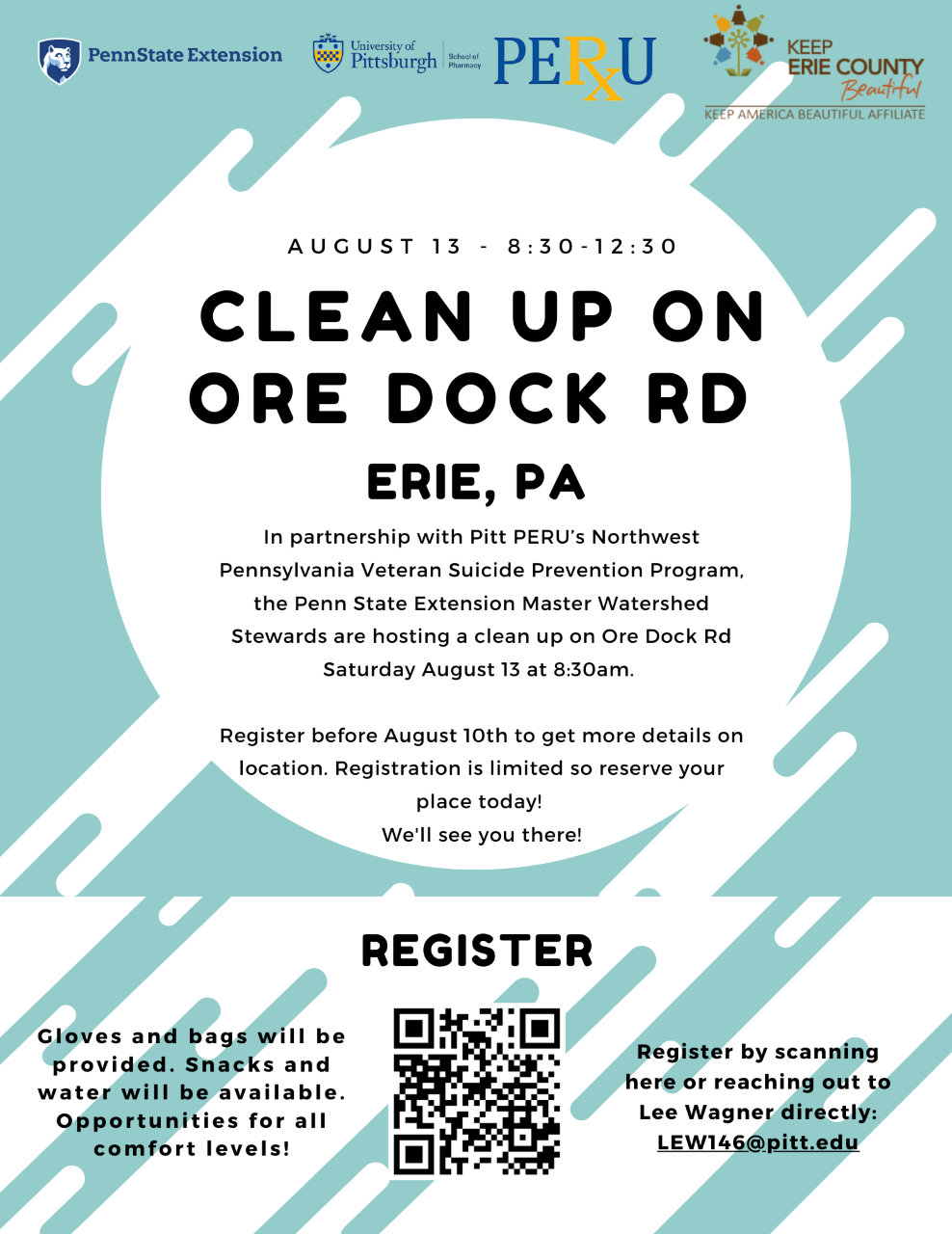 (ERIE, PA) – Register today for the collaborative cleanup on Ore Dock Road in Erie, PA, on August 12, 2022, at 8:30 AM. This clean will be hosted collaboratively by The University of Pittsburgh's (Pitt) Northwest Pennsylvania Veteran Suicide Prevention Program and the Penn State Extension Master Watershed Stewards.
Plastic and other forms of debris pollute Lake Erie and other waterbodies across Pennsylvania. There is a strong need for volunteers to assist in the removal of that debris in conjunction with preventative methods and raising awareness. This cleanup will focus on Ore Dock Road in Erie, PA, due to a special request by Keep Erie County Beautiful, a Keep America Beautiful affiliate. It is critical to sustain and enhance our water quality and conserve this most valuable resource through litter and plastic removal.
Throughout the 15-county region of Northwest Pennsylvania, the Veteran Suicide Prevention Program collaborates with healthcare partners, community organizations, Veterans, and their families to eliminate suicide deaths. By focusing on resiliency and protective factors, the program improves access to treatment and support services, increases awareness of suicide risk, and provides targeted suicide prevention activities and training opportunities. The program's public-facing materials, resources, and events can be found at TheResilientVeteran.org
The Master Watershed Steward program is a Penn State Extension program built to train volunteers in water conservation efforts. Stewards can assist with various efforts, including litter cleanups, tree plantings, education within the community, active participation in a watershed association, and much more. Questions about the Erie, Warren, and Crawford Master Watershed Steward Program can be directed to Amber Stilwell, the program coordinator, at ars26@psu.edu. More information can be found at https://extension.psu.edu/programs/watershed-stewards, including a staff directory for other programs across Pennsylvania.
We encourage anyone interested in participating, whether they are a Veteran, concerned citizen, or Master Watershed Steward, to register for this cleanup. Pitt will provide snacks and water, with gloves and bags provided by Keep Erie County Beautiful. Register today by filling out this online form to claim your spot, as there will be a limited number of attendees. Questions and concerns can be directed to Lee Wagner at LEW146@pitt.edu or Amber Stilwell at ars26@psu.edu.