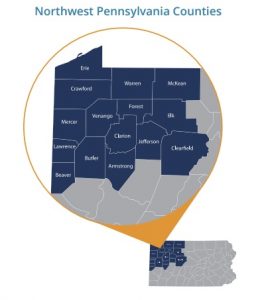 The Northwest Pennsylvania (NW PA) Veteran Suicide Prevention Program operates on a three-pronged approach involving healthcare providers, community organizations, and Veterans and their families. Because of this focus, we'd like to provide information about the Community Resilience Conference sponsored by the Erie Coalition for a Trauma Informed Community (ECTIC) taking place on Thursday, February 17.
ECTIC was formed to enhance resiliency and reduce the impact of trauma in Erie County. The Coalition is comprised of concerned citizens as well as individuals representing local faith-based organizations, service providers, businesses, schools, person-serving systems, and community centers. Coalition members operate based on the belief that trauma has a profound impact on the individual and community and that a trauma-informed community can help rebuild the foundation of its residents to overcome the past, thrive in the present, and face the uncertain future with renewed confidence.
Read time: 3 minutes


To register for this free, virtual event, visit the ECTIC 2022 conference website. Registration closes Tuesday, February 15 at 4 pm EST.
At a Glance: ECTIC 2022 Community Resilience Conference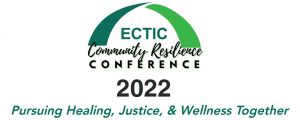 The following is an overview of topics and breakout sessions offered during the conference. Session descriptions and speaker bios and be viewed via the conference brochure.
Welcome & ECTIC Opening Remarks by

Cassie Dundon, LPC & Steve Minick, LPC

–

ECTIC Co

–

Chairs

Keynote Address

by

Dr. Monique Morris

Morning Breakout Sessions:




1.

Overcoming Unconscious Bias to Have Inclusive

C

onversations




2.

Settling the Score

–

A Body

-B

ased Approach to Trauma Recovery




3.

Awareness of Classism that BIPOC Experience and Acknowledging Resiliency Factors




4.

The Big Five Personality Traits

–

How to Use These to Foster Your Resilience and Hope in

an Icky Wo

rld

Afternoon 1 Breakout Sessions:




1.

A Tapestry of Change

–

How to

R

ecognize

and Implement Organizational Change




2.

Ethics and Trauma

–

Informed Care




3.

Implementing Trauma

–

Informed Practice of Social Emotional Learning (SEL) in

Schools at Universal Level and its Impact on Student Behavior

Afternoon 2 Breakout Sessions:




1.

Integrating Trauma

–

Informed Care into Response to Suicide




2.

Racially

Conscious Trauma

–

Informed Care




3.

Project Mentorship: Making Connections and Improving SEL at the High School Level

Amid a Pandemic

"The System Breaks Me Daily"

–

How to Recognize, Dismantle,

and Heal Systemic Racial Trauma

P

anel Discussion &

Closing Remarks
Continuing education credits may be available. Please contact the ECTIC for more information.
Looking to Get Involved?
Whether you identify as a healthcare provider, community organization, or Veteran, there are several opportunities through the NW PA Veteran Suicide Prevention Program and PERU to connect to resources, participate in educational training, and promote harm reduction strategies. We are actively recruiting healthcare and community partners to work with us in meeting our goals and objectives. To learn more, visit the program website at theresilientveteran.org.
Need Help? Know Someone Who Does? Contact the National Suicide Prevention Lifeline at 1-800-273-TALK (1-800-273-8255) or use the online Lifeline Crisis Chat. Both are free and confidential. You'll be connected to a skilled, trained counselor in your area.