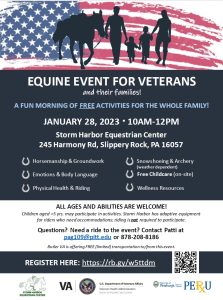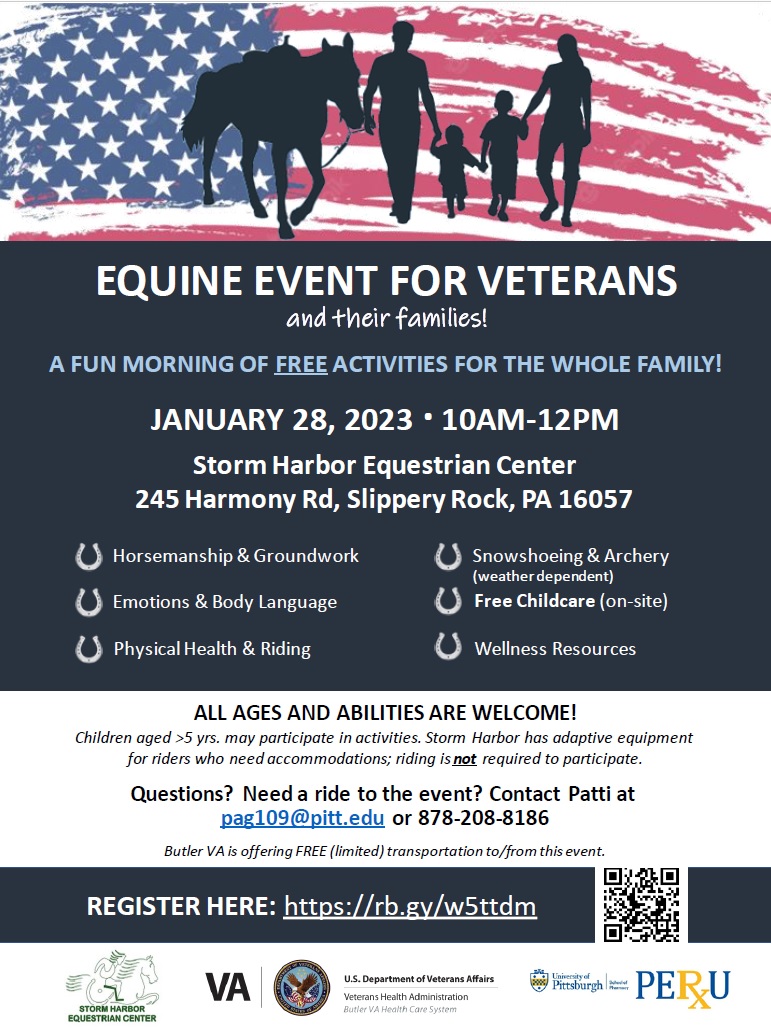 Throughout the 15-county region of Northwest Pennsylvania, the Veteran Suicide Prevention Program collaborates with healthcare partners, community organizations, Veterans, and their families to eliminate suicide deaths. By focusing on resiliency and protective factors, the program aims to improve access to treatment and support services, increase awareness of suicide risk, and provide targeted suicide prevention activities and training opportunities. We hope you'll join us for a fun morning of FREE activities for the whole family!
Date, Time, and Location:
JANUARY 28, 2023 · 10AM-12PM
Storm Harbor Equestrian Center
245 Harmony Rd, Slippery Rock, PA 16057
(weather dependent)
Register online to let us know you're attending! A pdf of the event flyer is available to download and share.
Horsemanship & Groundwork Emotions & Body Language
Snowshoeing & Archery
Free Childcare (on-site)
Physical Health & Riding
Wellness Resources
Butler VA is offering FREE (limited) transportation to/from this event.
ALL AGES AND ABILITIES ARE WELCOME!
Children aged >5 yrs. may participate in activities. Storm Harbor has adaptive equipment for riders who need accommodations; riding is not required to participate.
Questions? Need a ride to the event? Contact Patti Tanner, University of Pittsburgh
Phone: 878-208-8186
Email: patti.tanner@pitt.edu