Follow PERU and the NW PA Veteran Suicide Prevention Program on Twitter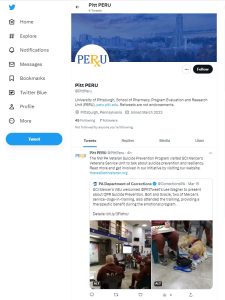 Are you active on Twitter? If so, you can now follow Pitt's School of Pharmacy Program Evaluation and Research Unit (PERU) to stay up-to-date with news about the NW PA Veteran Suicide Prevention Program.
PERU is dedicated to meaningful work that facilitates each patient or community member's ability to achieve optimal health, well-being, recovery and choice and the Twitter account shares information about the wide range of programs and initiatives they support throughout Pennsylvania and the region.
If you, or someone you know, is passionate about community health, fostering innovation in health systems, and supporting care for Veterans, give a "Follow" and learn more.