Breaking Bread With Heroes Luncheon A Success!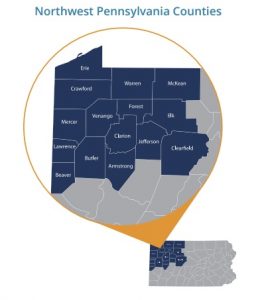 The Northwest Pennsylvania (NW PA) Veteran Suicide Prevention Program operates on a three-pronged approach involving healthcare providers, community organizations, and Veterans and their families in the 15 counties of NW PA. On Saturday, September 17, 2022 the "Breaking Bread with Heroes," luncheon took place at the Fort LeBoeuf American Legion Post 285 in Waterford, PA. The event was organized to raise awareness for Veteran suicide prevention and featured a menu designed by celebrity chef Robert Irvine and prepared by U.S. Marine Veteran and chef Shane Cash. Army Veteran and keynote speaker Stephanie Mitchell discussed her experience as a combat medic in Iraq and her current work with the Erie Veterans Center providing mental and behavioral health services to Veterans. The event received media coverage from Jet 24 Action News/YourErie.com and their article is included below. If you or an organization you represent would like to partner with us for community outreach activities, please reach contact us.
Read time: 5 minutes

Dozens of veterans gather in Waterford for a 'lunch with heroes'
by: Chelsea Swift
Dozens of veterans gathered in Waterford Saturday afternoon for what they're calling a "lunch with heroes." It's an event that's bringing veterans together to address a serious topic. Local veterans gathered Saturday for a free event called "Breaking Bread with Heroes" at the Fort LeBoeuf American Legion in Waterford.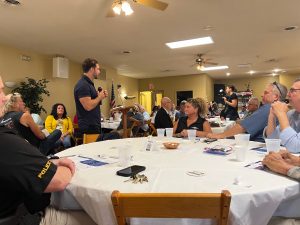 One representative from the Pennsylvania Department of Military and Veterans Affairs explained the work of the Robert Irvine Foundation and the University of Pittsburgh. "It's all about us getting into the community where our veterans live to spread the word, increase awareness, reduce stigma around suicide and suicide prevention," said Richard Hamp. Hamp said veterans can sometimes feel isolated. "They don't want to come out and tell you they need some help, so we have to ask. Again, if you start a conversation, you'll start to learn about that person, a lot of history. Look around this room, there are Vietnam era veterans here, Korea veterans here," said Hamp.
Don Bauer said it's great to connect with other veterans, he said it's also a learning opportunity. "Today has been a day of comradery and very, very good food," said Don Bauer, veteran. "It's just nice to see that their coming together with this awareness with suicide. I'm here to learn about it."
One organizer said he's seen the positive impact these events have on veterans. He said it allows them to get to know each other and bond. "These kinds of events, they bring people together. When you have people with similar experiences in the same room, that's when they're really able to open up. Some of those issues get really spot lighted and they're able to work through those adversities. So I think there's nothing better than having some food together," said David Reid, VP, director of military, veteran, and first responder outreach.
Looking to Get Involved?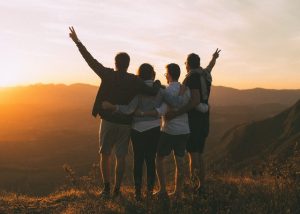 Whether you identify as a healthcare provider, community organization, or Veteran, there are several opportunities through the NW PA Veteran Suicide Prevention Program and PERU to connect to resources, participate in educational training, and promote harm reduction strategies. We are actively recruiting healthcare and community partners to work with us in meeting our goals and objectives. To learn more, visit the program website at theresilientveteran.org.
Need Help? Know Someone Who Does? Contact the National Suicide Prevention Lifeline at 988 or use the online Lifeline Crisis Chat. Both are free and confidential. You'll be connected to a skilled, trained counselor in your area.