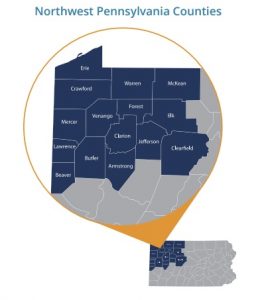 The Northwest Pennsylvania (NW PA) Veteran Suicide Prevention Program operates on a three-pronged approach involving healthcare providers, community organizations, and Veterans and their families in the 15 counties of NW PA. Because of this focus, we want to share the US Department of Defense's Quarterly Suicide Report and accompanying article written by Doug G. Ware for Stars and Stripes. We encourage everyone to review this information, share it within personal and professional networks, and get involved in stigma-reduction and suicide prevention efforts in their communities.
Read time: 5 minutes
The full report is available to download and share.

Military suicides rose in 1st quarter of 2023 compared to same time last year, Pentagon report says
WASHINGTON — Suicides in the active-duty military increased in the first three months of 2023 compared to the same time last year, according to a newly released Pentagon report.
The Defense Suicide Prevention Office revealed in its quarterly report that the overall number of active-duty suicides — 94 — from January through March was up 25% compared to the number of troops — 75 — who took their own lives in the first three months of 2022.
"Every death by suicide is a tragedy," according to the report. "Data includes all known or suspected suicides (both confirmed and pending) as of March 31, 2023."
The Army had the greatest increase in suicide deaths, from 37 to 49. The Marine Corps increased from eight to 14. The Air Force had one additional suicide compared to 2022 and there was no change for the Navy or Space Force, the Defense Department report states.
The 94 active-duty suicides are the most that the military has seen since 97 were reported in the second quarter of 2021. Among reserve troops and the National Guard, the report said suicide figures did not change between the first quarter of 2022 and the same period this year.
Pentagon data have shown a rise in military suicides in the past decade, including a significant spike in 2020 during the coronavirus pandemic, and the Defense Department has spent millions of dollars on efforts to try to prevent them.
In May, the department enacted the long-awaited Brandon Act to let troops seek mental health services confidentially and any time that they need it. It's named after Navy Petty Officer 3rd Class Brandon Caserta, who died by suicide in 2018. According to Defense Department data, there were almost 29 suicides per 100,000 troops in 2020 — up from 17.5 per 100,000 in 2010. That figure fell to 24.3 per 100,000 in 2021, but it still represented a serious uptick in suicides compared to most of the 2000s and 2010s.
"There is still a gradual increasing trend for suicide in the military over a 10-year period, and we need to see a sustained long-term reduction in suicide rates to know if we're really making progress," Beth Foster, executive director of the Pentagon's Force Resiliency Office, said when the 2021 Annual Report on Suicide in the Military came out in the fall.
The Defense Suicide Prevention Office was created by a Pentagon task force in 2011 to find more effective suicide prevention methods. Earlier this year, the Pentagon's Suicide Prevention and Response Independent Review Committee, after studying the problem for a year, made several recommendations, including restricting troops' access to firearms, imposing waiting periods for gun and ammunition purchases and raising the minimum age for buying both to 25. Firearms are used in about two-thirds of all active-duty military suicides, according to the Defense Department. The Pentagon is reviewing the recommendations.
The second quarter ended June 30 and the Defense Suicide Prevention Office traditionally doesn't issue an updated suicide report covering that period until October. The Pentagon's comprehensive yearly study on military suicides also is typically released in October. This year's will analyze 2022.
"The numbers presented in this report are preliminary and subject to change as previously unknown suicide cases are reported and some known cases are further investigated," the four-page report states. "Caution should be used when making comparisons across groups and/or interpreting changes in suicide counts across time."
In addition to Pentagon-wide programs, each of the military services has its own suicide program designed to provide help for troubled troops. Further, the national suicide prevention hotline was streamlined last year and became available by dialing 988. Pressing "1" after calling the number takes callers to the Veterans Crisis Line. Service members and veterans can also text 838255 or visit VeteransCrisisLine.net for help.
Ready to become part of the solution and learn how to talk about suicide and mental health? Register now for our upcoming QPR and CALM Gatekeeper training sessions.
Looking to Get Involved?
Whether you identify as a healthcare provider, community organization, or Veteran, there are several opportunities through the NW PA Veteran Suicide Prevention Program and PERU to connect to resources, participate in educational training, and promote harm reduction strategies. We are actively recruiting healthcare and community partners to work with us in meeting our goals and objectives. To learn more, visit the program website at theresilientveteran.org.
Need Help? Know Someone Who Does? Contact the National Suicide Prevention Lifeline at 988 or use the online Lifeline Crisis Chat. Both are free and confidential. You'll be connected to a skilled, trained counselor in your area.