Westmoreland County Veterans Conference 2022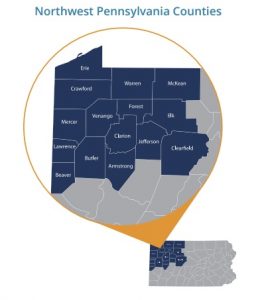 The Northwest Pennsylvania (NW PA) Veteran Suicide Prevention Program operates on a three-pronged approach involving healthcare providers, community organizations, and Veterans and their families in the 15 counties of NW PA. Because of this focus, we'd like to provide information about an in-person conference sponsored by the Westmoreland Drug and Alcohol Commission (WeDAC). This full-day event offers individual speakers, a panel discussion, and an opportunity to speak with local officials and healthcare representatives working to improve Veteran health and wellness.
About the WeDAC:  WeDAC is a private, non-profit located in Monessen, PA. The organization's mission is to enhance the quality of life for persons who have experienced problems related to their use or abuse of alcohol and/or drugs. WeDAC works to assure clients receive the appropriate level of alcohol/drug treatment and eliminate financial impediments to treatment and supportive services.
Read time: 3 minutes
We encourage everyone to share this information with people in your network.
Register online to attend this in-person event.

Westmoreland County Veterans Conference 2022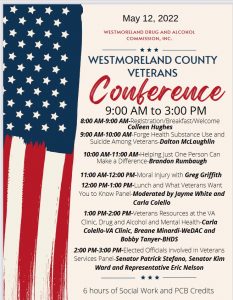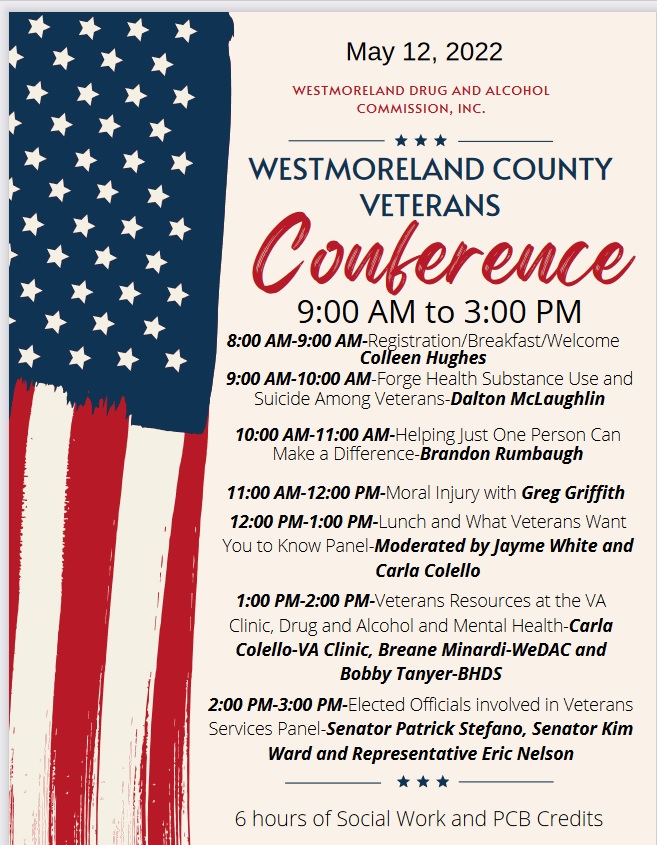 Calling all Professionals who work with Veterans!
Come learn about resources for Veterans and hear from Keynote Speaker, Brandon Rumbaugh! This event will also feature a session by Greg Griffith, Senior Program Implementation Specialist on the topic of moral injury.
Please download a pdf of the event and share with your networks.
Thursday, May 12, 2022
8:30 AM to 5:00 PM
Westmoreland County Community College-Student Achievement Center
145 Pavilion Lane, Youngwood, PA 15697
6 Social Work and PCB Credits-Pending are being offered
Vendor tables with Veteran resources
Register online to attend this event.
Looking to Get Involved?
Whether you identify as a healthcare provider, community organization, or Veteran, there are several opportunities through the NW PA Veteran Suicide Prevention Program and PERU to connect to resources, participate in educational training, and promote harm reduction strategies. We are actively recruiting healthcare and community partners to work with us in meeting our goals and objectives. To learn more, visit the program website at theresilientveteran.org.
Need Help? Know Someone Who Does? Contact the National Suicide Prevention Lifeline at 1-800-273-TALK (1-800-273-8255) or use the online Lifeline Crisis Chat. Both are free and confidential. You'll be connected to a skilled, trained counselor in your area.