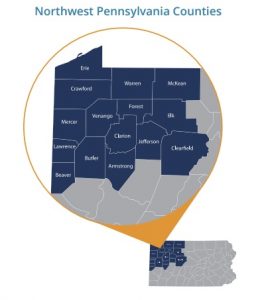 The Northwest Pennsylvania (NW PA) Veteran Suicide Prevention Program operates on a three-pronged approach involving healthcare providers, community organizations, and Veterans and their families in the 15 counties of NW PA. While PsychArmor is not a partner for this Program, their information and services work in tandem with with our stakeholders to support resiliency best-practices and Veteran suicide reduction.
Please reach out to us if you have any questions or would like to know more about our work in NW PA communities.
Read time: 3 minutes
Listen time: 25 minutes

RallyPoint: The Military Network

In this recent PsychArmor podcast interview, RallyPoint CEO David Gowel talks about his military career as a graduate of the United States Military Academy at West Point ('02) and of the US Army Ranger School. He served two tours in Europe during which he was deployed in support of Operation Iraqi Freedom. Dave's last active duty Army position was serving as an Assistant Professor of Military Leadership at the Massachusetts Institute of Technology (MIT). He explains the importance of the RallyPoint digital platform and the unique need it serves for the military community. In addition to offering a space to discuss military topics both socially and professionally, RallyPoint is inclusive of all military servicemembers, Veterans, family members, caregivers, survivors, and supporters of those in uniform. By connecting members and providing tools to succeed, RallyPoint offers support from recruit through retirement and beyond.  Within the community, members build their professional network, ask questions, share photos and stories, connect with members in a secure environment, and explore educational and career opportunities.
Looking to Get Involved?
Whether you identify as a healthcare provider, community organization, or Veteran, there are several opportunities through the NW PA Veteran Suicide Prevention Program and PERU to connect to resources, participate in educational training, and promote harm reduction strategies. We are actively recruiting healthcare and community partners to work with us in meeting our goals and objectives. To learn more, visit the program website at theresilientveteran.org.
Need Help? Know Someone Who Does? Contact the National Suicide Prevention Lifeline at 988 or use the online Lifeline Crisis Chat. Both are free and confidential. You'll be connected to a skilled, trained counselor in your area.