The Impact of Trauma-informed Suicide Prevention Approaches:
A systematic review of evidence across the lifespan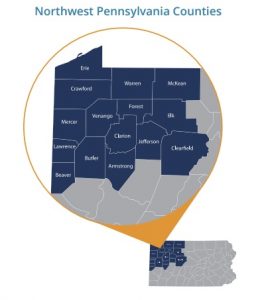 The Northwest Pennsylvania (NW PA) Veteran Suicide Prevention Program operates on a three-pronged approach involving healthcare providers, community organizations, and Veterans and their families in the 15 counties of NW PA.
This article summarizes a research presentation by Lee Wagner, Senior Program Implementation Specialist, and explores the following topics:
The relationship between suicide and trauma exposure
Trauma-informed therapeutic practices
Research approach and findings
Read time: 7 minutes
A pdf of the presentation, including sources, is available for download. The presentation is based on the article The impact of trauma-informed suicide prevention approaches: A systematic review of evidence across the lifespan from the International Journal of Mental Health Nursing.

Trauma's Impact on Suicide
Trauma impacts physical, cognitive, behavioral and emotional aspects of individual
Changes to their stress responses can be impacted (changes how they process fear)
The body's over-stressed arousal regulation impacts behavior
Trust and physical safety become paramount and a hyper-focus
Trauma-informed Practices
Trauma-informed practices make a conscious effort to understand the deep, personal impact trauma has on individuals. These practices seek to avoid re-traumatization by empowering individuals in:
Decision making
Creating safety and trust
Choice and collaboration
Building skills in personal problem solving
Systematic Review
The article under discussion reviewed four quantitative studies that had an emphasis on trauma-informed therapy in which an assessment for suicide and self harm was a component. The results of the review indicated that only two of the studies reported improvements in suicidal ideation, intent, and behavior. As a result, conclusions about the effectiveness of trauma-informed therapies are difficult to determine. While the work of trauma-informed therapies is still in its infancy, more qualitative and quantitative research is needed to develop a body of evidence. Identifying ways, including those considered non-traditional, to successfully treat Veterans who have experienced trauma and suicidal ideation will enhance all available treatment options.
Share Our Vision and Get Involved
Our Vision: The work of the Northwest Pennsylvania Veteran Suicide Prevention Program will result in resident Veteran suicides being reduced to zero by the end of the project period (August 31, 2025). 
Whether you identify as a healthcare provider, community organization, or Veteran, there are several opportunities through the NW PA Veteran Suicide Prevention Program and PERU to connect to resources, participate in educational training, and promote harm reduction strategies. We are actively recruiting healthcare and community partners to work with us in meeting our goals and objectives. To learn more, visit the program website at theresilientveteran.org.
Need Help? Know Someone Who Does? Contact the National Suicide Prevention Lifeline at 988 or use the online Lifeline Crisis Chat. Both are free and confidential. You'll be connected to a skilled, trained counselor in your area.