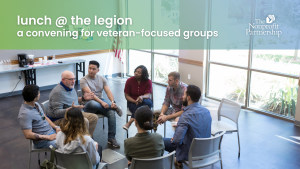 Throughout the 15-county region of Northwest Pennsylvania, the Veteran Suicide Prevention Program collaborates with healthcare partners, community organizations, Veterans, and their families to eliminate suicide deaths. By focusing on resiliency and protective factors, the program aims to improve access to treatment and support services, increase awareness of suicide risk, and provide targeted suicide prevention activities and training opportunities. We hope you'll join us at the American Legion Millcreek Post 773 in Erie, PA for a discussion and networking lunch for all veteran-focused community organizations.
Date, Time, and Location:
American Legion Millcreek Post 773
4109 West 12th St.
Erie, PA 16505
Tuesday, March 7, 2023
12 noon – 1:30 pm
This event is free; registration is required
Light lunch will be provided
Register to attend online.
Please join The Nonprofit Partnership, Bodhi Garden Initiative and NW Pennsylvania Veteran Suicide Prevention Program for a sector-specific convening. Our goal is to bring community groups together to network and learn more about one another; share information and resources; determine needs; and create a plan for next steps.
This convening is meant for agencies with a focus towards veteran support. Is your organization completely veteran focused? You're invited! Does your organization have a veteran-specific program? You're invited! Register now and we'll see you on March 7.