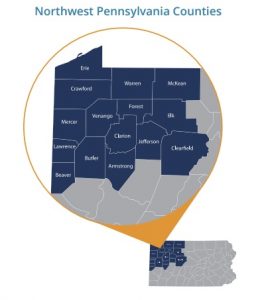 The Northwest Pennsylvania (NW PA) Veteran Suicide Prevention Program operates on a three-pronged approach involving healthcare providers, community organizations, and Veterans and their families in the 15 counties of NW PA. Because of this focus, we want to share the CDC's newly released report on changes in suicide rates by race and ethnicity for the United States in 2021. We encourage everyone to review this information, share it within personal and professional networks, and get involved in stigma-reduction and suicide prevention efforts in their communities.
Read time: 3 minutes
Recent Changes in Suicide Rates, by Race and Ethnicity and Age Group — United States, 2021

Suicide is a serious public health problem in the United States. After two consecutive years of declines in suicide (47,511 in 2019 and 45,979 in 2020), 2021 data indicate an increase in suicide to 48,183, nearly returning to the 2018 peak (48,344) with an age-adjusted rate of 14.1 suicides per 100,000 population.
To understand how this increase is distributed across racial and ethnic groups, the CDC analyzed changes in racial and ethnic age-adjusted and age-specific suicide rates during 2018–2021.
The 2021 report looks at age, race, and ethnicity-related trends between 2018 and 2021 between non-Hispanic Whites and other racial and ethnic groups. The following changes were identified:
Between 2018 and 2021, increases in age-adjusted suicide rates were highest amongst Native Americans (26%), with Blacks (19.2%) and Hispanics (6.8%) also showing significant increases.
By race/ethnicity, the highest number of suicide deaths in 2021 was within the White population (36,681).
From 2018 to 2021, suicide rates for Whites declined by 3.9%. However, they increased between 2020 and 2021 from 16.9 to 17.4 per 100,000 people.
Changes identified by age groups:
The suicide rate decreased by 12.4% for 45-64-year-olds (the age group that has traditionally contributed the most to the overall number of suicides).
However, a significant increase occurred for 25-44-year-olds (a 5% increase from 2018 to 2021) for Whites, Native Americans, and Hispanics.
For Black people, the largest increase (36.6% from 2018 to 2021) was seen in the 10-24-year-olds group.
This newly released CDC report is a vital reminder that we have much to do to save lives and bring hope to those affected by suicide. We all have a continued role in preventing this fatal health outcome. Evidence-based suicide prevention strategies exist, and public education and greater awareness about suicide and prevention are necessary to reduce suicide deaths.
Ready to become part of the solution and learn how to talk about suicide and mental health? Register now for our upcoming QPR Gatekeeper training sessions.
Looking to Get Involved?
Whether you identify as a healthcare provider, community organization, or Veteran, there are several opportunities through the NW PA Veteran Suicide Prevention Program and PERU to connect to resources, participate in educational training, and promote harm reduction strategies. We are actively recruiting healthcare and community partners to work with us in meeting our goals and objectives. To learn more, visit the program website at theresilientveteran.org.
Need Help? Know Someone Who Does? Contact the National Suicide Prevention Lifeline at 988 or use the online Lifeline Crisis Chat. Both are free and confidential. You'll be connected to a skilled, trained counselor in your area.