The Benefits of Equine Assisted Activities and Therapy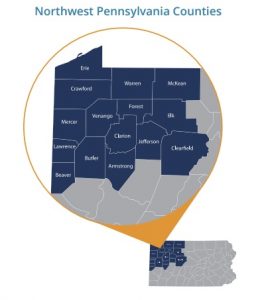 The Northwest Pennsylvania (NW PA) Veteran Suicide Prevention Program operates on a three-pronged approach involving healthcare providers, community organizations, and Veterans and their families in the 15 counties of NW PA. The "Person-First" series chronicles the lived experiences of Veterans committed to reducing suicide deaths of those who have served in the armed forces. In this article, Josiah Fink details his experiences with equine-assisted activities and the positive outcomes he's witnessed.
Read time: 5 minutes
The Joys of Horsing Around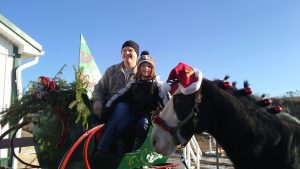 Josiah Fink joined the Pennsylvania Army National Guard, 28th Infantry Division, his junior year in high school. He completed his basic training after high school and attended one year of college before being deployed in Iraq in 2009 as part of the Stryker brigade. After his service, he returned to Pennsylvania, completed his criminology degree at Indiana University of Pennsylvania, and now works for the US Department of Personnel Management.
Josiah met Monique Nellis, owner of Heavenly Gaits Equestrian Center, through his involvement with Grace Evangelical Church. Monique had recently started an equine-assisted therapeutic riding program designed for individuals with developmental and mental health disabilities and recruited Josiah to volunteer during the weekly sessions. "Before getting involved with Heavenly Gaits, I did not have any background with horses. It was an amazing experience to see how well the individuals involved in the program did around the horses. Every session was always filled with happiness."
What is Equine Assisted Activities and Therapy (EAAT)?
EAAT incorporates equine activities and the equine environment to complement other, more traditional therapies. Some of the benefits participants in EAAT have experienced include:
Physical: The movement of the horse's gait at a walk is similar to a human's walking motion.  The horse's gait can help strengthen specific muscle groups, which may ultimately aid the participant with relearning how to walk or use prostheses.
Social: Horses offer a safe and peaceful environment and a non-judgmental atmosphere for bonding and socializing.
Cognitive: Working with horses helps teach the proper sequence of completing tasks to ensure that the horses remain cooperative and responsive.
Emotional: Bonding with a large animal can be emotionally satisfying and comforting.  Many participants experience relief from anxiety and peace when grooming a horse.
Exploring EAAT for Veterans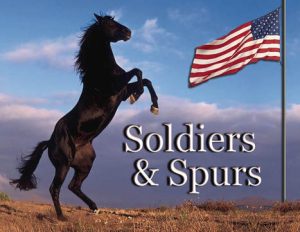 Based on the success of the first EAAT program, Monique voiced her interest in launching "Soldiers & Spurs," a therapeutic equestrian program for Veterans. She asked Josiah if he would switch roles from volunteer to participant. Josiah agreed but with the caveat that his six-year-old son be allowed to come along. "I don't think I'm alone in saying that I enjoy trying new activities that also involve my kids. That applies to many Vets, especially those my age who have families."
Josiah acknowledges that his transition from military service to civilian life brought about a "let down" period. Fortunately, he did not experience any long-term or persistent mental or physical health issues. However, he freely admits to having learned several important lessons from participating in the Veterans EAAT program. "It was incredible to see how the horse would match my reaction and emotional state. If I got upset, the horse was going to perk up. So much of the activity with the horses involves trust building and learning how to be confident and secure. It's amazing how much they pick up from you."
The eight-week program at Heavenly Gaits is open to all Veterans of all eras and provides a supportive environment to learn the basics of equestrian riding and care. "Every class involved grooming the horse, learning specific tasks, and once mounted, learning how to guide the horse around an obstacle course. We covered skills like weaving around cones, backing up, and stepping on a tarp. These tasks sound basic, but it takes time and patience. You must develop a bond with the horse and understand your emotions to progress."
Today, Josiah is an enthusiastic supporter of EAAT programming. "There's a lot of benefit to this program and getting involved can help resolve whatever fears or anxieties a person might be experiencing. It's also easy to bring the family along, so everyone can get involved and have fun. We're fortunate to have something like this in our area."
To learn more about the Heavenly Gaits Therapeutic Riding Center in Knox, PA visit their website.
Looking to Get Involved?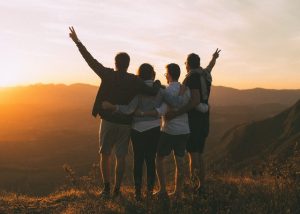 Whether you identify as a healthcare provider, community organization, or Veteran, there are several opportunities through the NW PA Veteran Suicide Prevention Program and PERU to connect to resources, participate in educational training, and promote harm reduction strategies. We are actively recruiting healthcare and community partners to work with us in meeting our goals and objectives. To learn more, visit the program website at theresilientveteran.org.
Need Help? Know Someone Who Does? Contact the National Suicide Prevention Lifeline at 988 or use the online Lifeline Crisis Chat. Both are free and confidential. You'll be connected to a skilled, trained counselor in your area.