Person First: Operation Vet NOW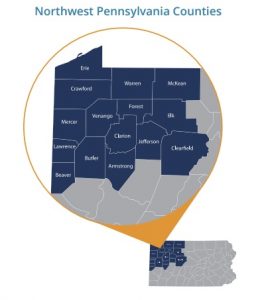 The Northwest Pennsylvania (NW PA) Veteran Suicide Prevention Program operates on a three-pronged approach involving healthcare providers, community organizations, and Veterans and their families in the 15 counties of NW PA. The "Person-First" series chronicles the lived experiences of Veterans committed to reducing suicide deaths of those who have served in the armed forces.
Read time: 7 minutes

Operation Vet NOW: Meeting Veterans Needs, through endless Opportunities, to fortify their health and Wellness
Tony Aubrey spent 22 years on active duty with the US Air Force. As a Combat Veteran from Operation Desert Storm (1990-91) he served his country through multiple deployments before retiring in 2006. When asked about this time in his life, he humbly asserts that he is fortunate because his military service provided him with a meaningful career, professional connections, and close friends.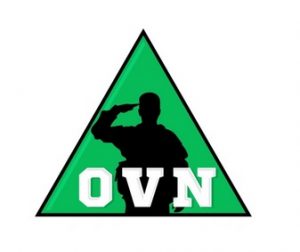 Like many service men and women facing the transition to civilian life, Tony found the disconnection challenging but it wasn't long before his second career in marketing and sales began to flourish and a life outside of military service filled his days. It wasn't until 2015 when he learned a close friend from his active-duty days had committed suicide that he stopped to seriously consider the mental health struggles Veterans face–and that marked the beginning of what would become his third career, Operation Vet NOW (OVN).
"When I learned that 22 Veterans commit suicide every year I nearly fell out of my chair," Aubrey says. "That's when a group of us realized we had to do something, and we started planning what would become OVN." As Aubrey's and his network set out to determine how they could best use their skills and knowledge to reduce Veteran suicide, they discovered that some Veterans were having difficulty navigating and accessing the various services they were entitled to. That formed the basis of the OVN mission, Meeting Veterans Needs, through endless Opportunities, to fortify their health and Wellness.
"Early on, we decided to take the approach of trying to navigate the system as someone who was looking for help and we discovered that it can be very confusing." The group quickly realized that for Veterans experiencing mental health or substance use challenges, that confusion could stop them from seeking help and put them at even greater risk. Aubrey is quick to point out that this isn't a criticism against the Department of Veterans Affairs (VA), "The VA is a large government organization that performs many services but because of this it's not always able to draw people in, and that's where we can dig in to close the gap and be there for the Veterans and families who need us."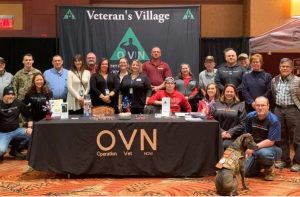 To help close the gap, OVN gets involved with recreation events and athletic competitions popular with Veterans. Whether it's snowmobiling, motocross, triathlons, mixed martial arts (MMA) and boxing matches, or racetracks, chances are, OVN will be on-site.  "We set up a Vets Village tent or table staffed with OVN volunteers and offer info about the transition to civilian life, career opportunities and job training, service dogs, and recovery and rehabilitation services," says Aubrey "But the most important thing the Vets Village offers is the opportunity to connect and have a face-to-face conversation with another Veteran in a setting that isn't clinical or administrative."
In addition to the Vets Village, OVN's Fallen Heroes project collaborates with different sporting events where participants wear the names of those who paid the ultimate sacrifice in the line of duty. Says Aubrey, "Many of the athletes that participate in these competitions are Veterans themselves and have stories of how they overcame PTSD. For many, getting involved with a competitive sport can be a life-saving strategy because it provides purpose, motivation to practice and improve skills, and connection with others who have the same goals."

While the OVN network strives to make personal connections with Veterans and provide resources and information to help them navigate VA services, there are times when "closing the gap" requires an even deeper level of commitment. "This story is so important to me because it shows how OVN makes an immediate difference," Tony says as he shares how he had recently formed a connection with a Veteran struggling with substance use disorder and was having difficulty accessing a VA-eligible in-patient treatment center. The OVN network got to work and thanks to their connections, found an approved center that was accepting admissions. Success was within reach except for one critical factor – the facility was on the other side of the state and the Veteran had no means to get there. "This is where the network is so important," says Aubrey. "We came together and organized transportation from his home to the facility and made sure someone was there to take him that final mile and walk through the door with him. That's what I mean by closing the gap. We dig in and make sure that person gets what they need."
"I need to serve to have peace in my life," says Tony as he speaks about the transformative power OVN has had over his life and those who volunteer for the organization. "Knowing that every Vet OVN has helped started as an in-person conversation, makes all the difference. We're offering a connection that Veterans can trust and rely on."
Contact OVN to ask questions, learn more about their projects, or volunteer.
Looking to Get Involved?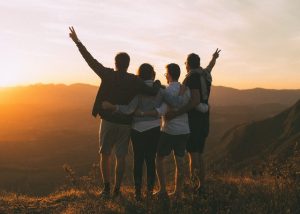 Whether you identify as a healthcare provider, community organization, or Veteran, there are several opportunities through the NW PA Veteran Suicide Prevention Program and PERU to connect to resources, participate in educational training, and promote harm reduction strategies. We are actively recruiting healthcare and community partners to work with us in meeting our goals and objectives. To learn more, visit the program website at theresilientveteran.org.
Need Help? Know Someone Who Does? Contact the National Suicide Prevention Lifeline at 988 or use the online Lifeline Crisis Chat. Both are free and confidential. You'll be connected to a skilled, trained counselor in your area.