The PTSD Self-Screen Tool is Important Today and Every Day
June 27 is PTSD Awareness Day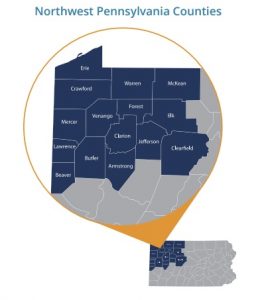 The Northwest Pennsylvania (NW PA) Veteran Suicide Prevention Program operates on a three-pronged approach involving healthcare providers, community organizations, and Veterans and their families. The PA Department of Military and Veterans Affairs (DMVA) is an active partner and is responsible for ensuring that the Program integrates current Veteran suicide prevention initiatives throughout Pennsylvania. The PTSD self-screen tool is designed to help anyone find out if their feelings or behaviors may be related to post-traumatic stress disorder (PTSD). While only a trained provider can diagnose PTSD, this online tool offers helpful information and can be used when talking with a doctor or behavioral health professional.
Read time: 4 minutes
Help Raise PTSD Awareness


There are currently about 8 million people in the United States with PTSD.
Even though PTSD treatments work, most people who have PTSD don't get the help they need. June is PTSD Awareness Month, and June 27 is PTSD Awareness Day. Help us spread the word that effective PTSD treatments are available! Everyone with PTSD—whether they are Veterans or civilian survivors of sexual assault, serious accidents, natural disasters, or other traumatic events—needs to know that treatments really do work and can lead to a better quality of life. The PTSD self-screen tool is a good way to start. The person's responses to the screening questions are private and secure—they are not collected or shared. A person who completes the screen may take a screenshot or print the screen to share with a healthcare provider.
Promote Connection and Resiliency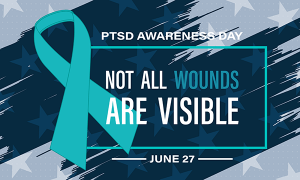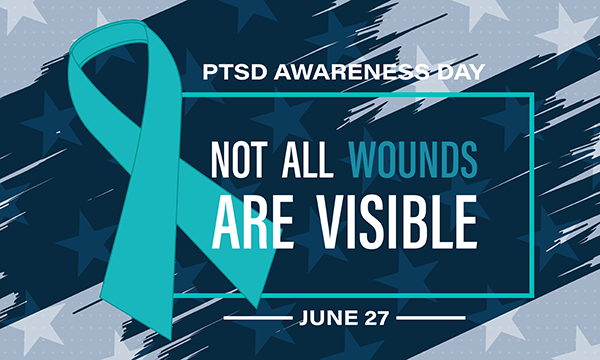 In addition to sharing the importance of the self-screen tool, there are many other ways to help raise awareness about the prevalence of PTSD and the many different treatment options.
Share on social media.
1. Change your profile picture.
2. Share this video about PTSD symptoms.
3. Not sure what to say? Take a look at these pre-written posts for Facebook and Twitter.
Email, Text, or Mail a Letter.
1. Send an email to friends and family letting them know about PTSD Awareness Month and encourage them to visit the official website for tips and resources.
2. Text or call a Veteran in your life, just to check in.
3. Participate in the Caring Messages campaign.
4. Share the PTSD self-screen tool with someone you are concerned about or within your professional network.
Help Us Reduce Veteran Suicide Deaths. Get Involved.
PERU has partnered with the U.S. Department of Veterans Affairs since 2015 and continues to strive to ensure the health, safety, and well-being of the Veteran community. To learn more about the work we are undertaking alongside our stakeholders, visit our website at theresilientveteran.org. By working together, we can reduce suicide deaths of those who have served in the armed forces.